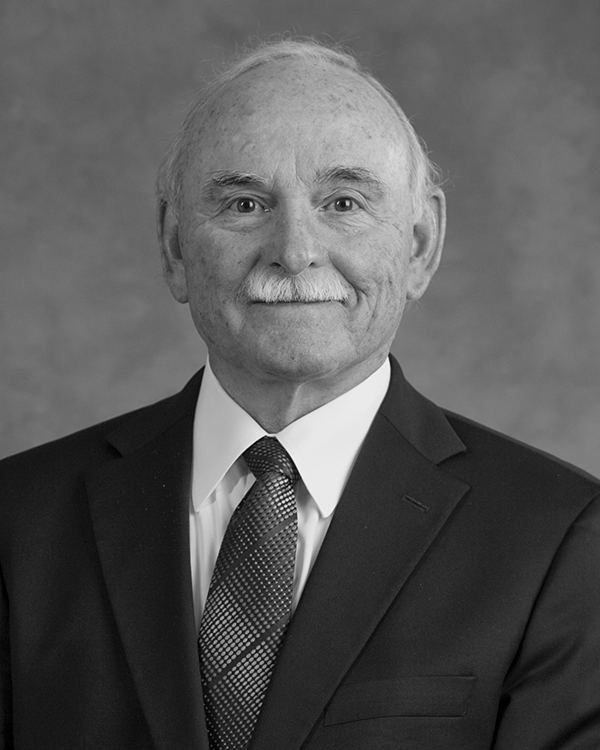 Marshall D. Walker, DO, served as KCU's 13th president and CEO from 2012 to 2013. He is a past chairman of the KCU Board of Trustees and has been a member of the board since 2010.
Dr. Walker earned a Bachelor of Arts from Kansas State Teachers College, now Emporia State University, and a Doctor of Osteopathic Medicine from Kansas City University of Medicine and Biosciences in 1972.
After graduating from KCU, Dr. Walker began his medical career in the U.S. Navy and service in Honolulu. He completed a rotating internship and his residency in otolaryngology at the Naval Regional Medical Center in San Diego. Dr. Walker achieved the rank of Commander in the Medical Corps after serving 21 years in the U.S. Navy.
Following Dr. Walker's career in the military, he had a long career as a head and neck surgeon in Wichita, Kansas. He was the director of medical education for American Osteopathic Association programs for Via Christi Hospitals and its family medicine residency program. Dr. Walker also held faculty and leadership positions at Via Christi Riverside and Wesley Medical Center, both in Wichita, and the Medical Center of Independence in Independence, Missouri. He served as vice chairman of the Riverside Health Foundation.
In addition to his position as a clinical professor of surgery at KCU, he has taught at A. T. Still University – Kirksville College of Osteopathic Medicine and the University of Kansas School of Medicine-Wichita's Department of Family and Community Medicine.
Dr. Walker has been active on many KCU committees, and the University has recognized him with numerous awards, including Alumnus of the Year, the Star-Spangled Banner Medallion for Military Service, the Ricci Outstanding Educator Award and the Alumni Association Service Award.
The Walker Family Welcome Center in KCU's Administration Building is named in honor of Dr. Walker and his wife, Dr. Donna Walker, for their longstanding support of the University.