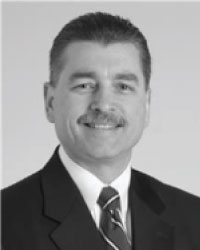 Robert S. Juhasz, DO, is a board-certified internist from Concord Township, Ohio, who currently practices clinical medicine at Cleveland Clinic's Willoughby Hills Family Health Center.
Upon graduating from Kansas City University's College of Osteopathic Medicine in 1981, Dr. Juhasz completed his internship and internal medicine residency training at what is now South Pointe Hospital in Warrensville Heights, Ohio.
A pioneer in the adoption of electronic health records, Dr. Juhasz was actively involved in the implementation of the electronic medical record system at the Cleveland Clinic before many physicians used these systems. In 2005, he participated on a panel with President George W. Bush to discuss the benefits of electronic medical records. From 2013 to 2017, Dr. Juhasz served as president of Cleveland Clinic's South Pointe Hospital. In 2014, he served as the 118th president of the American Osteopathic Association.
Dr. Juhasz holds adjunct faculty positions at the Cleveland Clinic's Lerner College of Medicine at Case Western University in Cleveland and at Ohio University Heritage College of Osteopathic Medicine (OU-HCOM), where he also served as an associate dean. His commitment to providing excellence in patient care has not gone unnoticed. He is the recipient of the Phillips Medal of Public Service by OU-HCOM, and the Ohio Osteopathic Association's Trustee Award.
Dr. Juhasz is a fellow and diplomat of the American College of Osteopathic Internists and a fellow of the American College of Physicians.