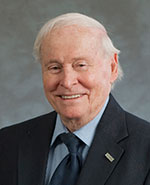 Paul W. Dybedal, DO, retired from the KCU Board of Trustees in 2007 following more than 36 years of service. He also served on several university committees, including Academic and Medical Affairs, Institutional Advancement, Graduate Studies and Finance.

Dr. Dybedal earned his Doctor of Osteopathic Medicine from the Kansas City University of Medicine and Biosciences in 1954. He completed an internship in Portland, Oregon, before going on to practice with a group of other osteopathic physicians in Seattle. He served as a medical officer in the U.S. Army Reserves and retired as a colonel.

Dr. Dybedal accepted a fellowship in psychiatry through an arrangement with the National Institutes of Health and the State of California. Board-certified in psychiatry, he practiced inpatient and forensic psychiatry at Napa State Hospital.

A past KCU Alumnus of the Year, Dr. Dybedal and his wife, Mary Lou, have been generous supporters of the University. They established the Paul W. Dybedal, DO, and Mary L. Dybedal Scholarship, and KCU's Center for Research is named in their honor.