Below you will find the publications that KCU produces for reporting and communications to our constituents.
KCU Magazine
KCU Magazine is an award-winning publication distributed three times a year to bring you in-depth stories on topics of interest in your profession, plus interesting alumni news, campus developments and updates on KCU's research, community involvement and education.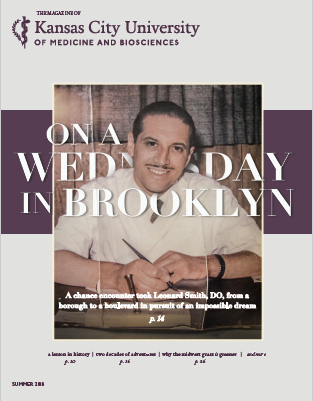 Archives
Marc B. Hahn, DO, FAOCA, president and chief executive officer of KCU, shares news, events and how the University is accomplishing our strategic initiatives.
Annual Reports

Previous Reports: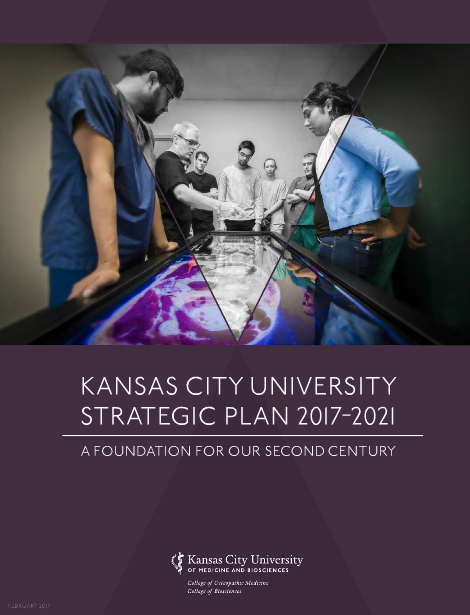 As KCU embraces its new mission and embarks on a path toward implementation of its key initiatives during the next several years, the University recognizes that the Strategic Plan will guide our decision-making and resource allocation. However, it is also an ever-evolving document that can and should be regularly reviewed and revised. With this principle in mind, we look forward to exploring KCU's potential as we strive to meet the challenges of another 100 years of educating students.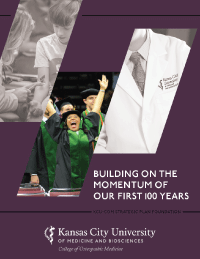 Brochures
KCU provides the following brochures to those interested in learning more about osteopathic medicine and the degree programs offered by KCU.
College of Osteopathic Medicine
Fact Sheet
Founded in 1916, KCU's College of Osteopathic Medicine is a leader in osteopathic medical education, with a learning environment that emphasizes both academic excellence and the education of caring, compassionate physicians, who place their patients' needs above all else.
What is a DO?
The premise of osteopathic medicine is that people are more than just the sum of their body parts. Doctors of osteopathic medicine (DOs) take a holistic approach to medicine. Osteopathic medical schools espouse the osteopathic philosophy and generally teach a four-year curriculum, which embraces preventive medicine and holistic patient care.
The Path to Medical School
From pre-college to post-college, we have your premedical student checklist.
Partners Program
Kansas City University of Medicine and Biosciences-College of Osteopathic Medicine is fortunate to be able to offer a unique early admissions opportunity to outstanding undergraduate students at select educational institutions. The Partners Program, established in 1998, offers well-qualified undergraduate students the opportunity to gain early admission to KCU-COM.
College of Biosciences
Fact Sheet
Whether your interest is in working toward discoveries in a biomedical research laboratory or exploring the role of bioethics in research and the practice of medicine, KCU-Kansas City's College of Biosciences can teach you the skills you need to become an immediate contributor in the growing life sciences industry.
Clinical Psychology Doctoral Program
KCU offers the only Doctoral Program in Clinical Psychology in Missouri or Kansas, helping to meet tomorrow's workforce needs for the region and beyond.